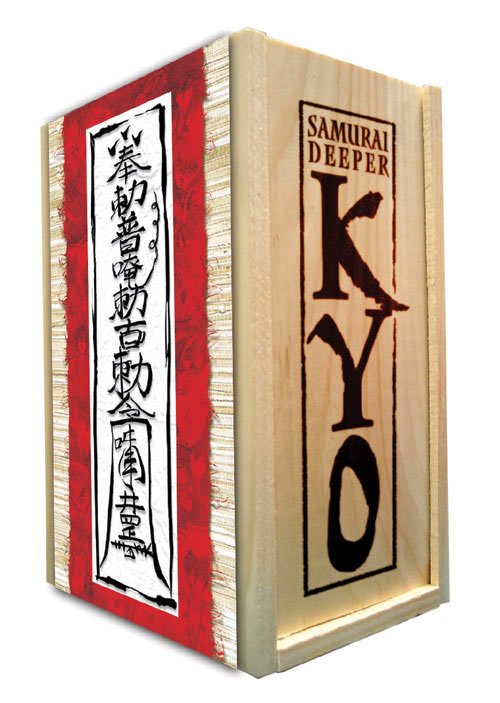 http://www.samuraideeperkyo.us - U.S. Official Site
http://www.tv-tokyo.co.jp/anime/ kyo/main_index.html - Japanese Official Site
You heard it too, didn't you?
The voice of the wind.
During Tokugawa Ieyasu's epic battle of Sekigahara, two samurai face off outside of history. In the heat of the duel between Kyoshiro and Demon Eyes Kyo, a shooting star slams into the plains, shattering the ground and engulfing both of them.
Four years later, the bounty hunter Yuya finds the good natured Kyoshiro, now a traveling medicine man. Hidden deep inside Kyoshiro is the soul of his old opponent, the merciless samurai Kyo. When Yuya and Kyoshiro are thrown into battle, the medicine man's friendly personality will recede, and the whole world will learn why Kyo is called a demon!
Date Available - June 24, 2003
Running time - 125 Minutes contains episodes 1-5
Rating - 15+
Format - Hybrid
Media - DVD
Product Availability - Preorder - Not Yet Shipping
Publisher - MEDIA BLASTERS
Thoughts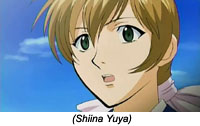 Alpha: Let me start off this new Animesou feature, by explaining what it is. The watcher is a group discussion of what's to come during the year if possible we will have a guest speaker from their respective companies to add their comments. This idea was sparked by something like this on IGN. Stikz just brought up this idea and it's pretty cool. So without further ado my thoughts on this upcoming title from Media Blasters.
Rurouni Kenshin's success in the states was probably a reason why Media Blasters acquired this new samurai hit. Samurai Deeper Kyo was created by Akimine Kamijo, aired in Japan on TV Tokyo starting from July 1, 2002 to December 23, 2002, consisting of twenty six episodes and animation done by Studio DEEN. What I like about this title is how it looks of course :P. The story is also pretty cool. Demon Eyes Kyo is hidden within Mibu Kyoshiro as a result of the meteor that hit the Earth and caused a mutation to those who were near the impact. Some people were given powers to transform into monsters known as "ken-you" or Sword Demon. At times we are given a character with two personalities. Kyoshiro who is kind and Kyo who became a legend after killing a thousand soldiers by himself. There is comedy to some extent and what about the ladies? Yuya Shiina is the main female character who is a bounty hunter and she isn't afraid to use her body to get her victims to fall for her trap. According to my September 2002 issue of Newtype Japan Samurai Deeper Kyo received a rating of 1.8 on debut. Considering that it was broadcasted at 1:55AM and the rating was based solely on its debut, it is an average feedback from the Japanese viewers.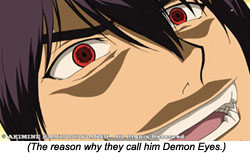 :Stikz
This kind of reminds me of Rurouni Kenshin, only cooler. Much like the Kenshin OVA's (Samurai X). I rated the Samurai X OVA a perfect 10. So you can see how this title would interest me. Get ready for a real samurai showdown.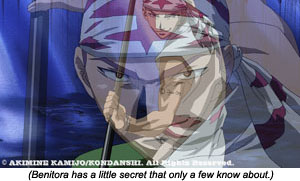 Sean Molyneaux (Media Blasters): Kyo is a series extremely wrapped up in Japanese history, even more so than Kenshin. In fact, the basic premise is that an unexpected event concerning the title character, Kyo, has caused history to diverge from its predestined course. Megeria, who knows the true future, is attempting to solve the problem. In the resulting chaos, major historical figures are killed off before their time, and the Sanada clan uses this as an opportunity to gain more power than they have historically. For those having taken basic Japanese history, it's a lot of fun to try and stay one step ahead of the plot.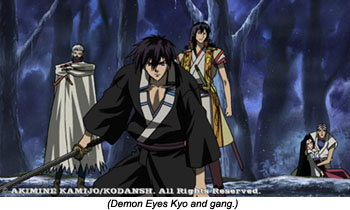 :Hornet
Heard some good things about it. I wonder how it will compare to Kenshin.

Alpha: So, Samurai Deeper Kyo is certainly going to be a surprise for the American anime fans. I've listened to both of the opening (Ao no Requiem - Blue Requiem) and ending theme (Love Deeper) sung by Tsubokura Yuiko, both of these themes are upbeat and simply awesome. I have to thank Sean of Media Blasters for taking time to reply to my email. Be prepared for another samurai adventure coming to you this summer! In the mean time drool over some of the screen caps.

Samura Deeper Kyo Screen Caps: