Rant-ON
The Evolution of Animesou ———————————————-
By: Alpha
  You know, Animesou didn't look so good over night.   My team and I constantly think of new ideas for the viewers of this site.   From day one to present, we still believe in viewers first and will continue to have that belief.   Have you ever wanted to know how Animesou started?   Here it goes.
  In 1999, Animesou was created (to read more go to history).   I was an average anime fan, I've watched anime since the day I can see, hear and know what was going on around me.   But the crave and craze did not hit me until I saw Love Hina.   Sou's base was on Love Hina, but as I've said, new ideas are constantly being made and of course I turned the once going to be Love Hina page to a page that will involve all Anime.   Here I go about looking for a free host and here I read the Complete Idiot's Guide to Making Webpages.   It was all fun, but looking for my staff was the best part.   Uhh… lets not waste anymore time, here I introduce to you Animesou site layout version 1: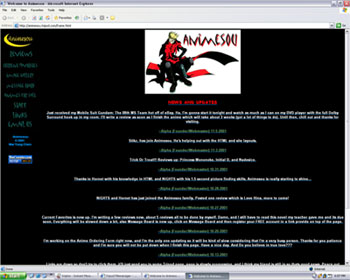 This layout was all done in HTML and was all done by me.   Even though it is so ugly, people over at IGN Anime Board still complimented me.   They gave me the energy boost to work harder on this page and then of course my staff did.   Oh and the Staff that joined when this layout debuted were:   Ray (was later kicked out of the inn for not paying rent), Hornet, NiGHTS, and Stikz.
  The only reason Stikz was allowed to join was because he is cool, just kidding.   Stikz joined, because we desperately needed a web designs person.   After the examples he had shown me, I was amazed.   It was totally better than the basic "n00b" HTML that I have put together.   Here is a look at what Stikz did soon after he joined which makes Animesou site layout version 2: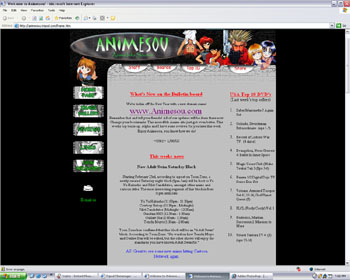 Version 2 was obviously getting better.   Stikz's first go at the site layout turned out surprisingly to me.   This layout kept that black background, and this time, characters from a variety of anime series were added to give the site a certain detail and by doing that, the site was much livelier than its older sibling version 1.   The staff consisted of Hornet, Stikz and I.   NiGHTS was kicked out of the inn, for not paying rent and excessive use of the hot springs.   Wow that is 2 people that got kicked out of the Sou.    
  What was missing? A question that I have asked myself numerous of times.   Was it the background?   Or was it just that my dream was impossible to become reality?   Version 2 was definitely missing some elements that a great page should contain and we put our heads to work till it almost literally exploded.   But thankfully, Stikz has saved us with Version 3 and 4 of Animesou: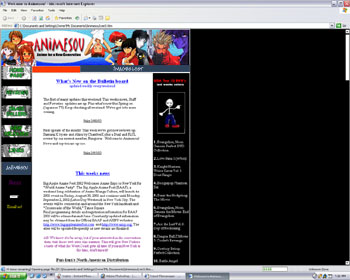 Note that the picture shown here is Version 4, Version 3 is basically the same, but with a different colored logo (Orange, Kind of like a sun set).   Also I've replaced some original buttons that were suppose to be on the image.   Unfortunately, they were long lost, even Version 3's banner was lost.   New staff that joined the Sou were, our Anime guru, fourfour44, fine looking thing (uhh.. I meant the building :D), hinatasou, Mr. Critique Alpha's reviews, ChamberX, Mr. I don't know much about except he likes Vash-the-Stampede, Ranguvar and the can not seem to spell or get grammar right, Mr. Kriptor aka Alpha's Secretary!!!      
  I thought this layout was it, it was good but Sou kept on evolving and one day I stumbled upon one of our buddies' site, weasl.net.   There I noticed the new design they used and was anxious to know who the heck did it.   After all the commotion, I found the name stf and an email address linked to that name.   Then it happens, stf replies and accepts my request.   At first Stikz did not agree, because it'll take away his work, but then he changed his mind.   I wonder why.   Is it because Version 5 is here to stay until stf wants to get his hands down and dirty to make another super duper Animesou site layout? Here I present to you Version 5: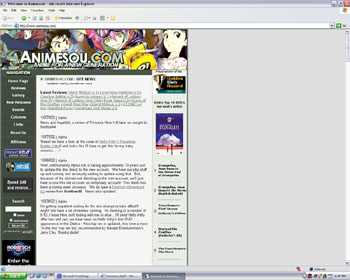 Version 5, the Animesou layout that has impressed thousands of people that visited the site.   The banner is random generated.   On this picture it is FLCL, other banners are, Onegai Teacher, X TV, Happy Lesson and another one which I'm not familiar with.   New staff that joined were stf the "Masta Web Designa," Hero the Spiderman and FFVII freak and Ein, a Japanese female who wants to keep a low profile so shhhh….
  There you have it.   The 5 steps evolution that the Sou has been through.   You might ask, "Wow! 5 layouts?   That took what…, 2 years?"   The answer to that my friends is less than a year.   We still have not have our one year anniversary yet.   I hope we have a party some how.   Anyways, it's been fun typing this out and we will continue on striving for our one goal.   Which is a himegoto (secret) :P.
Main Idea of this Rant?! - The evolution of Animesou!
Closing Statement(s) - Animesou is like my lucky charm.   Ever since writing reviews, I have improved gradually in my writing skills, comparing to my old reviews, my new reviews are definitely better.   I thank my staff, friends, and Anime companies that has made a difference to Animesou.   *I'm about to cry, sobs*