Kare Kano Vol. 1 Manga Review —————————————-
By: Alpha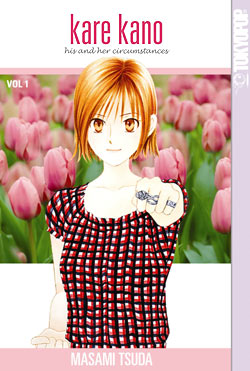 Synopsis:
  Yukino Miyazawa has it all - perfect grades, looks, the admiration of her peers.   She's the #1 student at her school… at least she was until he showed up.   The new boy, Soichiro Arima, one-ups her in every department.   And the worst thing about it is that he's sincere!   With her ego in jeopardy, Yukino will do whatever it takes to regain the spotlight, but falling in love was never part of the plan.

Review:  
  I am pretty surprised that I took approximately three weeks just to finish Kare Kano (His and Her Circumstances or Kareshi Kanojo no Jijou) volume one.   Do not get me wrong.   This manga was a very fun read.   Sometimes manga-ka Masami Tsuda would add her little funny life episode on the side of a page.   Masami has a great sense of humor, she made me laugh as I was reading Tsuda Diary near the end of volume one.    
  Let's get to the story, Yukino Miyazawa a top student and ego maniac, preys on the praises of others.   In other words, she gets satisfied as people admire her.   All eyes were on Yukino until Arima arrived.   Arima, a male student who is similar to Yukino in many ways in the eyes of the school, suddenly becomes the center of attention and Yukino feels that she no longer is number one.   Finally, Yukino scores higher than Arima on a test and she becomes surprised at Arima's actions.   All he did was praised her.   Yukino feeling a bit of uneasiness goes home and acts if nothing happened.    
  But later on is when something does happen, and when the story starts pulling together.   Arima finds out Yukino's true self first hand and then we end up with Arima blackmailing Yukino.   Many things happen and at the end of the volume we are put into what is going to become the beginning of a pair of lovers.    
  Certainly I enjoyed the manga licensed by Tokyopop as with the animation licensed and distributed by The Rightstuf International.   The story was pretty much on par with the animation.   The only difference between them is that in the manga a bonus story called "The Tiger and the Chameleon: A Promise For One Week" and "Tsuda Diary" was included.   The story of the bonus story was about a girl who thought that she was ugly, because a kid from back then called her ugly.   The story relates to an issue that many people face today; looks in other's eyes.   She went from a person who would not even put her head up because she had such low self esteem to a person who no longer cares.   How?   That's for everybody who read Kare Kano volume one to know and you who have not yet read Kare Kano volume one to find out :P.  
Recommend Value - A, Kare Kano is easily my top favorites right now.   But let's try to find some negatives.   I can't.   The story of Kare Kano is real.   Meaning it is based in present time more importantly Masami Tsuda is a genius!   And hehe she sleeps late so that she cannot wake up early on purpose and what her brother does to her when she can't wake up is funny.   Check it out, hey who knows you might grow to love this series too.        
Closing Statement(s) - Three weeks to finish a manga… that's sad, I need to kick myself in the rear or jump start my motor for taking so long!