BoA - Valenti ——————————————–
By: Alpha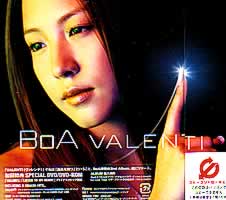 Tracklistings:
01 - Valenti?½?
02 - Jewel Song
03 - B.I.O.
04 - Sekai no katasumi de
05 - Kiseki
06 - Winding Road featuring DABO
07 - Searching for Truth
08 - Moon & Sunrise
09 - Discovery
10 - Flower?½?
11 - Beside You
12 - Feel the Same
13 - No.1

Special DVD listing:
01 - LISTEN TO MY HEART PV
02 - Valenti PV
03 - Information Clip
BoA is an artist in which I have a low knowledge on. Her single "LISTEN TO MY HEART" was the first song that caught my attention and it was the only song. Since the release of "LISTEN TO MY HEART" I have never looked into BoA much again. How did I recently tune back to BoA? It was all, because of the recommendations from a forum that I frequent.
So, lets' start. Valenti is BoA's second album and a great album. Mainly, because of the background music, the lyrics, along with the beautiful voice of BoA. This album completely changed the way I look at or listen to BoA. The album is made up of different styles. From R&B to Dance to Ballads, she does an astonishing job. From the moment I press play on my DVD Player and heard the beat of track 1 (Valenti) I immediately said, "Ok, this is going to be a hell of an album." Turns out to me that I was correct. I know this one dude who cannot stop listening the CD! (No! It's not me! Although I did put the whole Valenti album into an MD for my own listening pleasures.)
An interesting feat that I found was that the album goes from one fast paced song to a slow paced song and then fast again. It is laid out in that pattern. This lay out pattern just makes Valenti that more attractive. You will not be finding yourself going fast all the time, but having a dose of each world, which I find to be a good thing. When I put up with the same style of music, I tend to listen to it for a week and then it is back to my draw to collect dust. That is only me though heh.
Normally this last paragraph would be my personal song recommendations of the reviewed album, but Valenti to me does not contain any bad songs. So, I recommend all the songs in this album! I must say BoA did a very very good job on Valenti. Well I also have to give props to the crew who putted the whole album together too.
Recommend Value - After listening to Valenti for approximately a week, I have yet to grow bored of it. I actually think that the songs are still pretty fresh and new to me. BoA's Valenti deserves an A+, because it is that damn good!
Closing Statement(s) - Maybe I should slap myself for not attending the NYT Music Festival when she attended. I think it was back in the year 2001.