Rant-ON  
My Trip To Hong Kong / China ——————————————
By: Alpha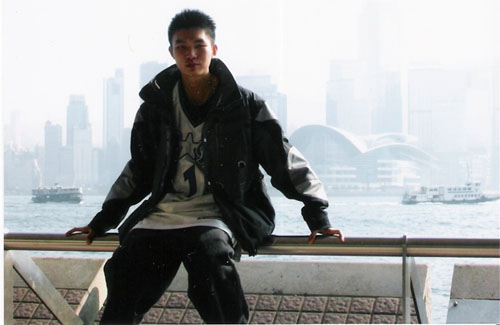 It has been a couple of years since I had last traveled to Hong Kong, this time around though, everything feels so different. I am no longer an adolescent and I am traveling alone now. The day of the journey's commencement, my father made me get to the John F. Kennedy International Airport an hour or so early, so there was basically nothing much to do, other than waiting after checking in with Northwest Airlines.As the boarding time approached, I took my leave and the adventure begins here. Right off the bat I knew my flight was going to be interesting. When I got to my assigned seat, I left everything alone, turned on my MD player and opened up Dan Brown's amazing book, The Da Vinci Code. The flight to Tokyo's Narita Airport was long, way too long. Approximately twelve to thirteen hours. During my break there I got to see a lot of kawaii Japanese females, but really, I am not here for that kind of business, so I tuned everything out and waited for the boarding of my flight from Narita to Hong Kong.
Arriving in Hong Kong was always special to me. Seeing the night lights during landing is an experience to remember. After getting out of the plane I proceeded to customs booth for Hong Kong citizens; a swipe of my identification card and I am out of there. Next up, baggage claim. I truly despise it. The process takes forever and you just never know if someone mistook your baggage and stuff. After a good twenty minutes, I am finally walking out to meet my aunts and cousin, whom have come to pick me up.
The new airport is an amazing architecture; modern and classy is a way I would describe it. Also the infamous double decker buses, which was the result of British rule of Hong Kong, was always a good sight for me. Well the bus ride was about an hour so by the time I got to my aunt's house it was twelve something. I took my shower and waited for the next day.
May 19th, 2005
Nothing much went on today. Woke up at my usual 5:30AM, brush and washed up and turned on the television. In Hong Kong, there are only four channels available for free. Two broadcasters, two channels each. And if you know the history of Hong Kong a bit, you would figure out why a broadcaster will have two channels… give up? One is Chinese, whereas, the other one is English. Hong Kong is a tourist driven city, hence providing an English channel is the smart thing to do.
Anyways, I scrolled through the channels and found nothing but morning news. Sigh… I pulled my MD player out again and decided to play 'If You Don't Know Me By Now,' by Simply Red. Heck I love oldies, the new stuff these days are all repetitive and boring. I will choose oldies over new music any day! Haha. When my aunt woke up, she told me she will leave work early to bring me to 'Yum cha' or drink tea. The people in Hong Kong will visit the restaurant any time of the day. Morning tea will feature an older audience as they had just finished up with Tai Chi and morning exercises. Afternoon tea features a young audience, mainly because people have their lunch breaks and take that time to sip a cup of tea with a colleague and what not. So, what is so special about Hong Kong's yum cha compared to America's? Well the most significant difference is that everything tastes great, they are cooked right after you checked your card of what they have, such as, dim sum and various types of things combo up with rice, and they do not ask for tips! That is right, almost everything required no tips. Hence making the meal I was about to enjoy even more cheaper in price. Ahhh food heaven.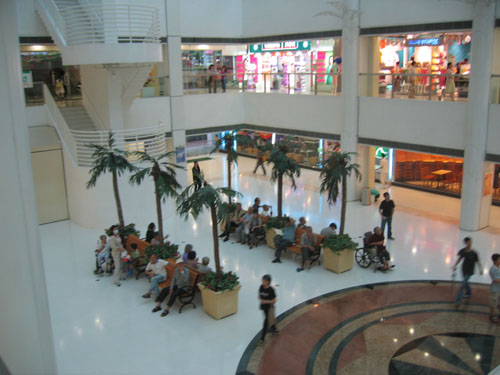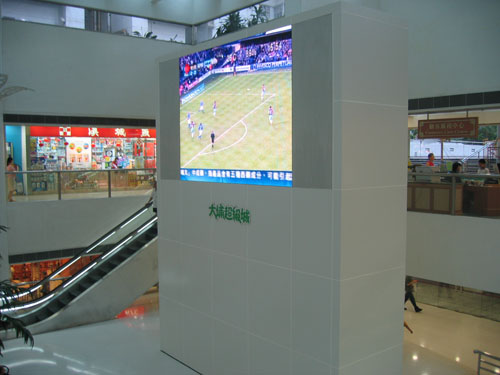 After dim sum, my aunt and I walked to the shopping mall and just browsed through what they had. So many to choose from, your head will spin. When we were done, we bought things to cook for dinner and headed home. Home sweet home I thought, because I finally had time to continue where I had left off in The Da Vinci Code. After reading about seven chapters, I took a shower, watched a Hong Kong drama and then proceeded to sleep.May 20th, 2005
Woke up at 5:30AM again, said bye to my uncle and then listened to music as I was reading the book. An hour later, my aunt wakes up to leave for her work. She tells me to go downstairs to buy food later… and that I did. There is a mall directly downstairs of her building and I had many choices, but I narrowed it down to three, McDonald's, Caf?© de Carousel (I might have spelled it wrong) and Chinese fast food restaurant. I was sick of McDonald's so I just went with choice three. I went in, ordered congee, chocolate milk, and toast. The lady looked at me weird, probably because of the way I ordered. I just picked what I wanted, she told me they are all separate items and are not a meal combo, so her point was probably that it was going to be expensive. I looked at her and kind of just said, 'So?' The bill came out to $26 Hong Kong dollars, approximately $3.34 United States dollars. Was that expensive? Heh, I do not think so, sometimes you can get breakfast for just $10 - $14 bucks and that is like $1.28 - $1.80 United States dollars. There are not deals like this in the United States. Lol.
After eating I headed back home and did what I had been doing since I arrived, music, television, and book. At 2:30PM, my uncle calls me and tells me to head downstairs for food, this time, Caf?© de Carousel. I ate a tasty roasted pork/duck with vermicelli in soup. Man was that thing good… then I gulped down a cup of milk tea. After that we headed home and I did the usual. You may say, 'Wow, it seems boring,' but that is the way I live my life. I do not like to go outside for no reason. I would rather not waste energy on doing nothing, besides; it was hot as hell outside :).
May 21st, 2005
Saturday, my aunt is off of work today so she decides to bring me to visit my grandmother after morning tea with my cousin. Visiting my grandmother was the whole point of this trip, as she now lives in a home for the elderly after breaking her leg from falling down some stairs. Well, we went to Sheung Shui, taking the East Rail. Man these trains are silent, nothing like New York City subways, where it is dirty, smelly and loud as hell. Also if you ever visit Hong Kong and take the East Rail or any rail in particular, do not lean on the doors, because oncoming trains will scare the crap out of you if you are a tourist and is totally oblivious to that knowledge.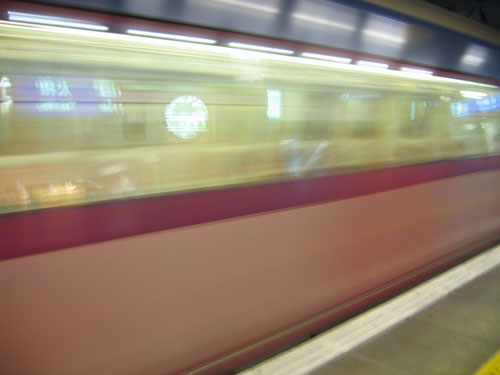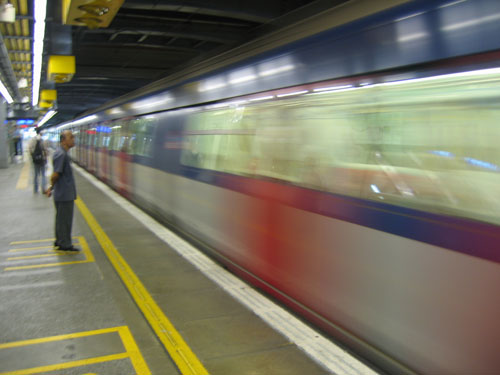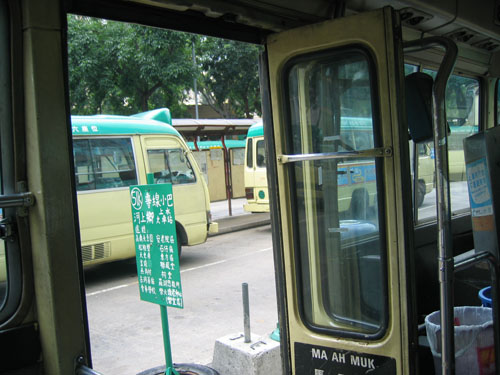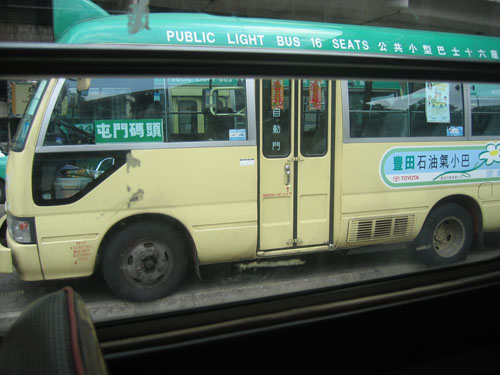 Anyways, after the train, we had to transfer to a sixteen seater bus. When I arrived at the home for the elderly, I could not recognize my grandmother. Her hair was white and she had a hair cut. But I guess we both break even, because she did not recognize me as well hehe. Welp, stayed there for a while, then headed back to the train station where the Landmark Mall is. We windowed shopped a few stores, such as, Blue Star Exchange, G2000, Bossini, and Fortress (electronics store). I was in no hurry to buy things as I still have a lot of time. When my aunt and I got back to Tai Po, we met up with my uncle at the Tai Po shopping mall and ate at Caf?© de Carousel. I had my favorite toast :). Then we shopped a bit and went home, showered, watched TV and sleep.
May 22nd, 2005
Today, my second aunt who lives in the building across from my aunt's building promised me to yum cha, so I woke up crazy early, around 5:00AM, listened to music, read, and then decided to practice some basketball. Now I was rusty at first, but then the J's started coming. When I saw the sun come out blazing, I left lol. When the sun is out, the heat begins. I took a shower, then around 10:00AM or so, my second aunt calls and tells me to go to the restaurant downstairs. I went and after the tea I left with my cousin to walk around Hong Kong a bit. We went to Sha Tin, they did not have much, other than Snoopy's World. I was saddened by the fact that they took down the landmark of the Sha Tin mall; the musical fountain. Oh wells. We headed to Mong Kok, the place where all tourists go for cheap stuff. Heck we had no idea where the hell we were going so we just walked around and saw some interesting looking tower. We decided to go in and man was this place grand. Aside from looking modern and ancient (lol what a clash of two worlds), there was a special Star Wars event going on. Although I am not a fan of Star Wars, here are some pictures of the thingy.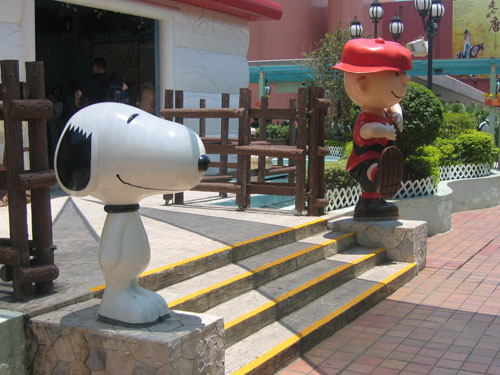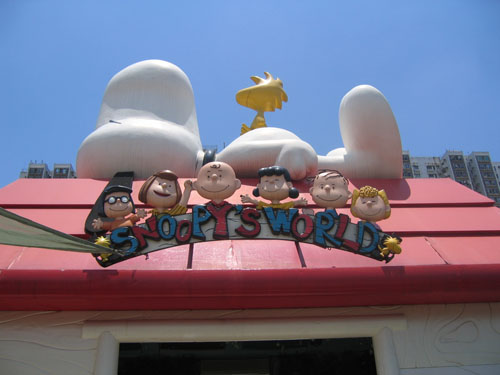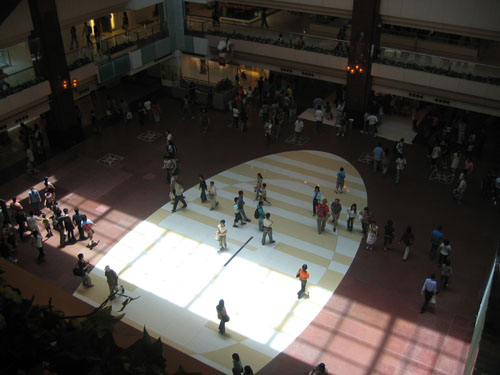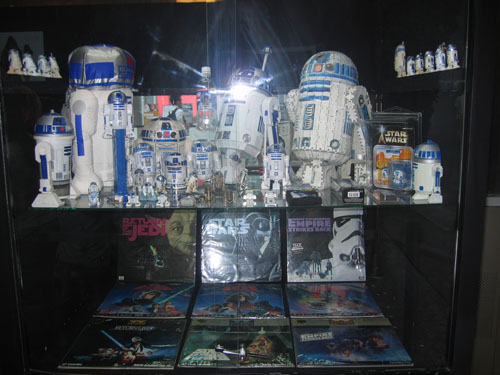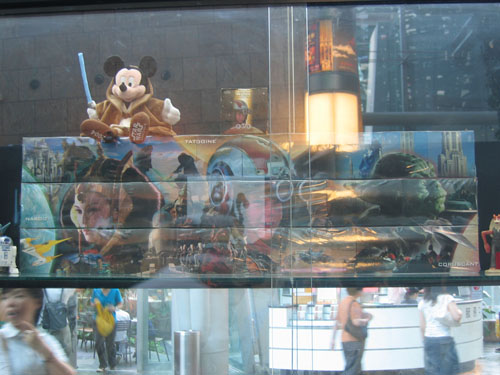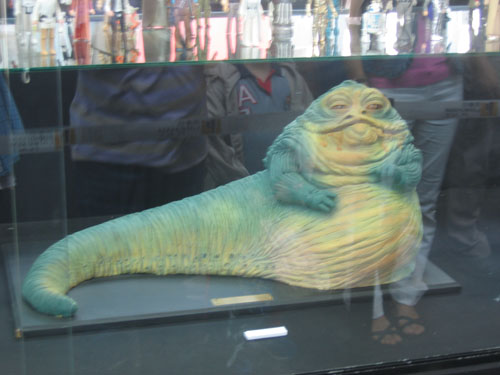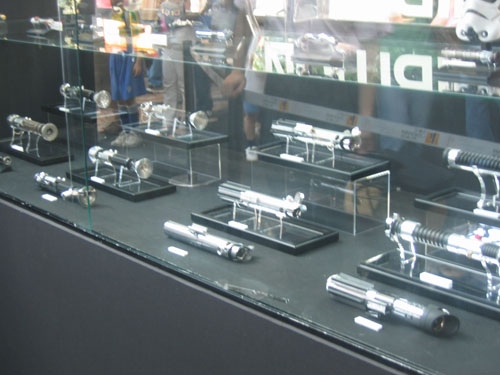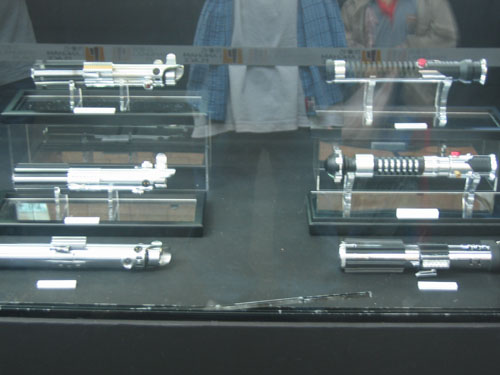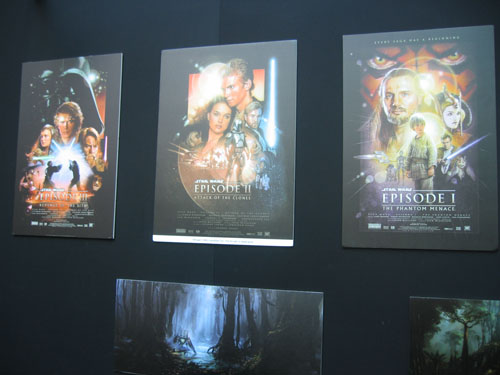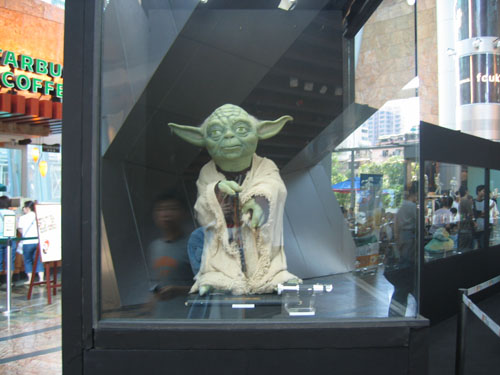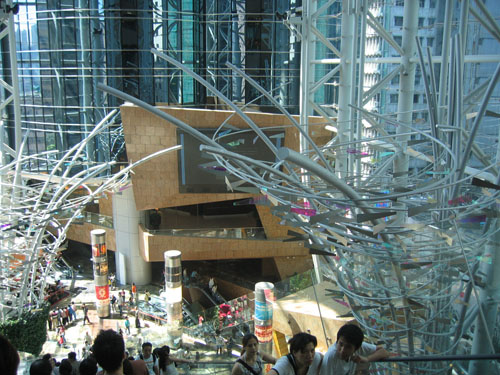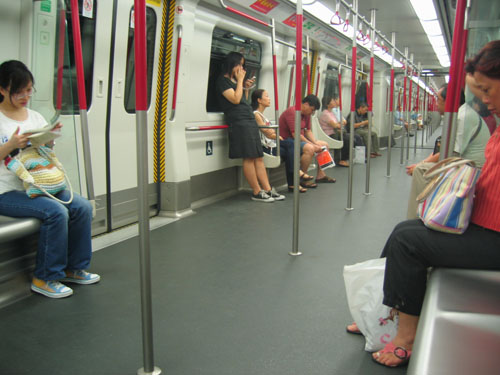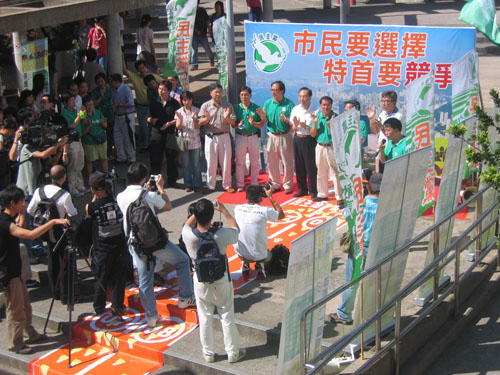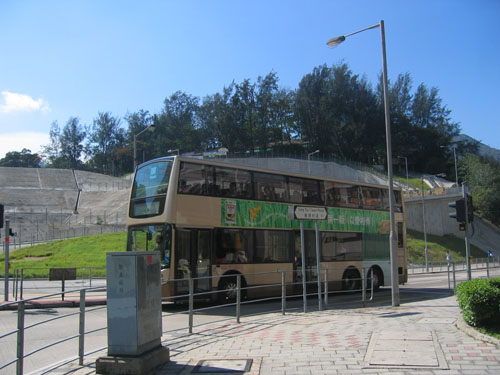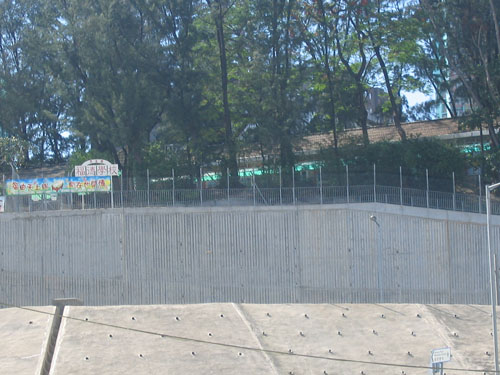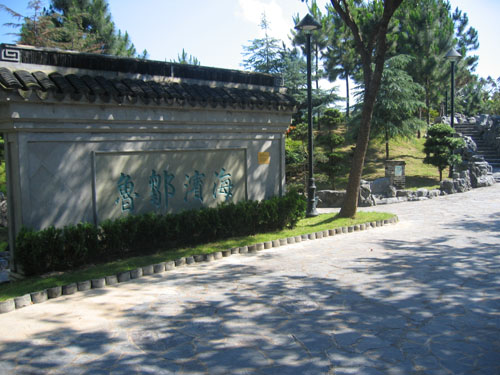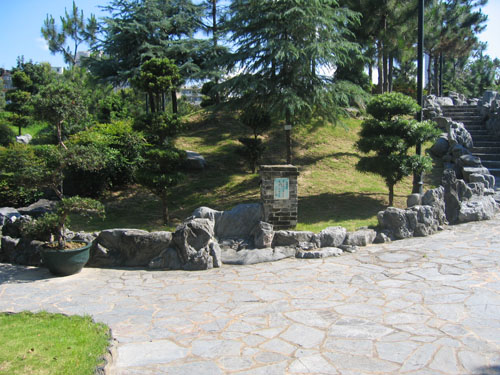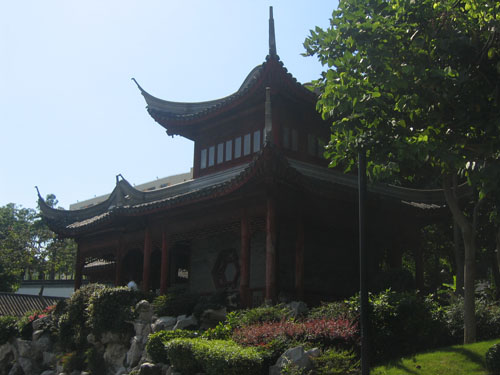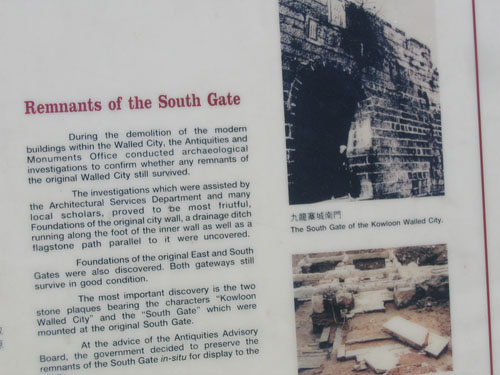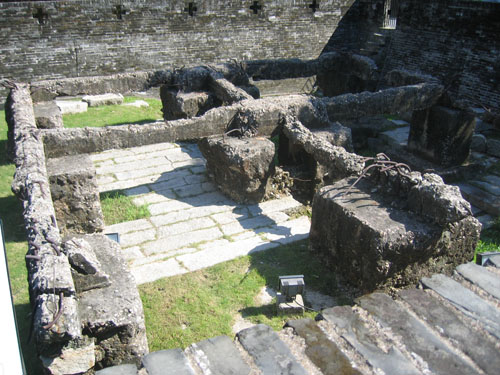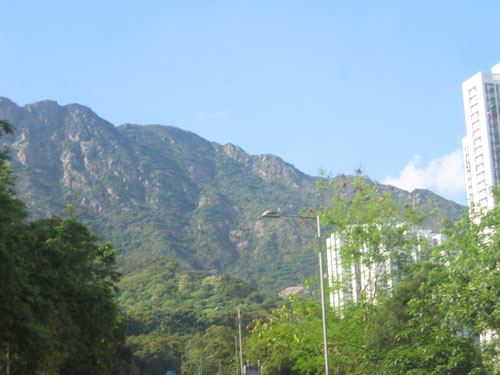 When we left the Langham Place, we headed to Kowloon, and the way I know how to get there required some walking. We got on the MTR (this is the subway) and got off at Lok Fu. Once we resurfaced, there was a politician doing something. I had no idea what, so I just power walked out of the area, where the media was. We walked through the park that I always went to when I was a kid. Nothing much changed, although the horror stories still freak me out till this day. Once we got out of the park, a few blocks down will be where my kindergarten, elementary school is and where my home once was. They tore it down and built some old school temples look-a-like thingy there, sigh… just for the tourists. Well, the mission for the day was to find the cheapest price for a Sony PSP and $1690 was the cheapest for the regular edition and $1890 for the value pack. We left after learning the prices and headed home on 75X, the double decker bus hehe.May 23rd, 2005
Today is the day my grandfather comes back from China for his check up. I got up early as usual and played some basketball. After that I took a shower and headed down to Caf?© de Carousel, the place was packed (while I am out of school, the students in Hong Kong do not get out until early late June, early July), so I said forget this and just went to McDonald's and got some hotcakes. When that was over, I went back upstairs and watched TV until my grandfather arrived. When he arrived, we went to yum cha and just spent some time walking together as it has been a while since we have done that. We headed to the newly built supermarket and it was clean and does not even look like a supermarket. Attached are some pictures.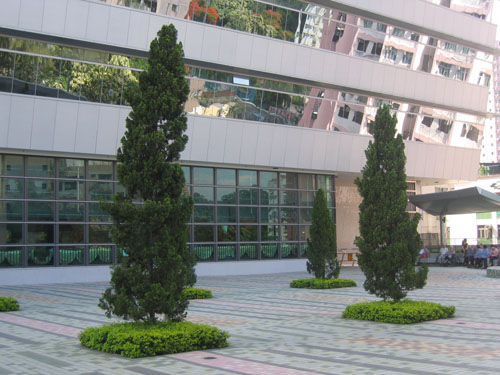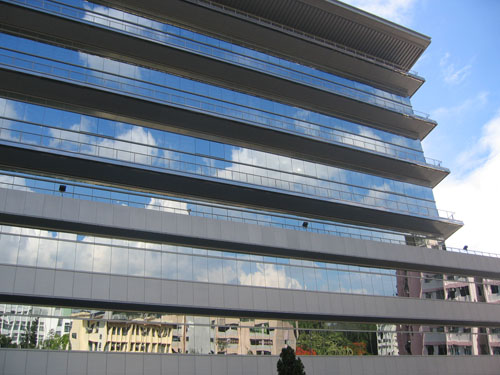 After we bought some groceries, I headed home, my grandfather went to walk around, because that is just what he always does. The day ended like usual hehe.May 24th, 2005
Today was my uncle's off day and all of us went to morning tea. My grandfather left early for his appointment for his check up. I stayed a bit more to feast on more food. After that we went back home and I waited till my grandfather was done. When he came back, we went to afternoon tea, and I ate a lot again :P. Then my days in Hong Kong was ending as I head to China, to the place where my grandfather and ancestors lived; Da Peng, Lung Kee. The bus ride was about an hour and a half long and the scenery was pretty after passing Shen Zhen and seeing all the crazy drivers/Jay walkers. Enjoy the pictures.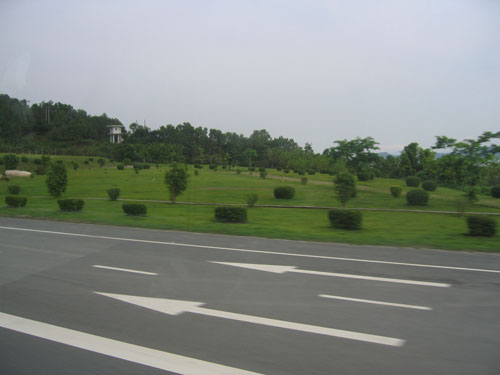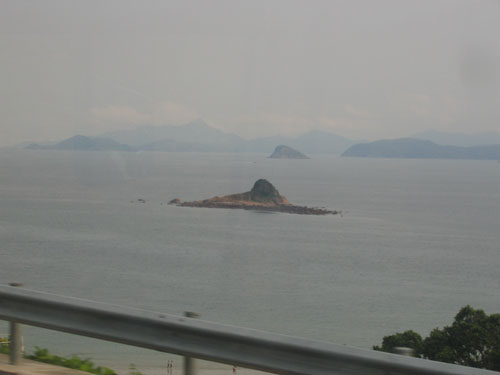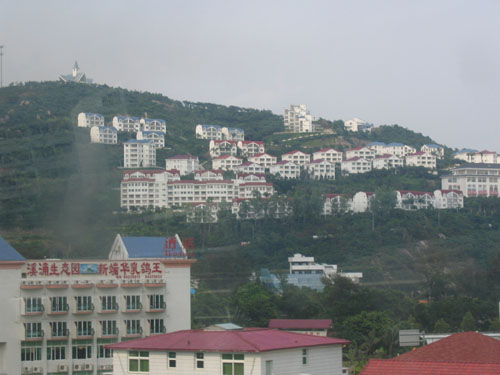 May 25th, 2005
My first full day in China, I woke up early and my grandfather, his maid and I went to Nam Au (my translation sucks) to yum cha. Immediately I felt the differences between the two places. The buses here all have busted suspensions! You will be lucky to walk out without catching some neck spasm. I also saw that some of these people are so lazy. Why? They cannot even walk a block to the place they want to get off. Let us say someone decides to get off the bus at the beginning of this block, another would get off at the end of this short block! What the hell?
The restaurant was not bad, but the variety was limited. Oh wells, after that we just bought groceries and went home. My uncle from China calls me and then we went sightseeing a bit. Man driving in China is not for n00bs. We were driving by the shore and the damn road had no railings! And there were boulders on the road and the bushes grow out so long, you cannot even see oncoming cars haha, I was glad to have survived that. When we reached the destination, I liked the views and the ocean's breeze. It is just a feeling I cannot describe. So carefree, away from the stress in New York City :).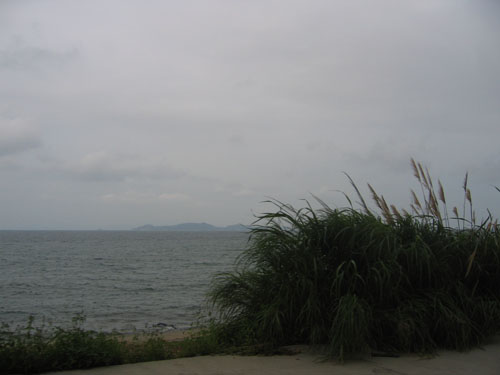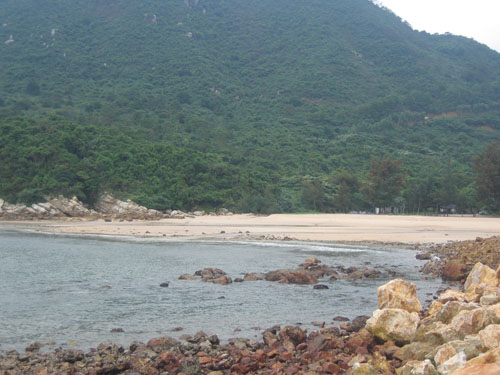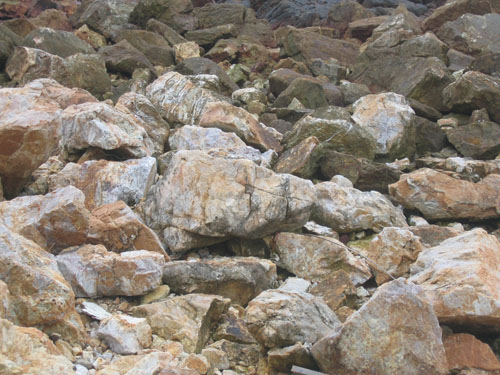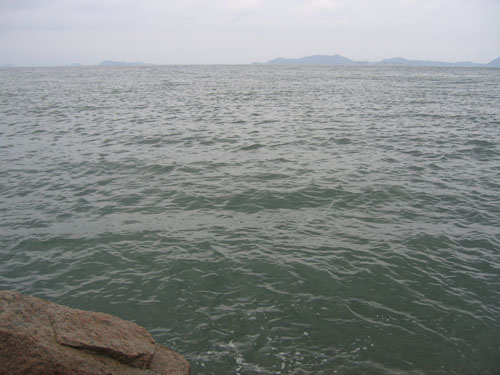 May 26th, 2005
Early in the morning, my uncle and I headed to Lung Gong (Dragon River). We hitched a ride from his friend who drove a Honda Fit sedan. The name sounds weird, but it is a car that you probably would not see in America, because we get all the crappy stuff. Just a note, did you know that Acura's TSX is actually a Honda Accord? So the next time you go saying that your Acura is higher class than your friend's Honda… think twice. There is just so much benefits from being so close to Japan and having similar demographic interests, such as, being efficient and saving gas/energy; something Americans are just beginning to learn about, because of the outrageously high gas prices :/.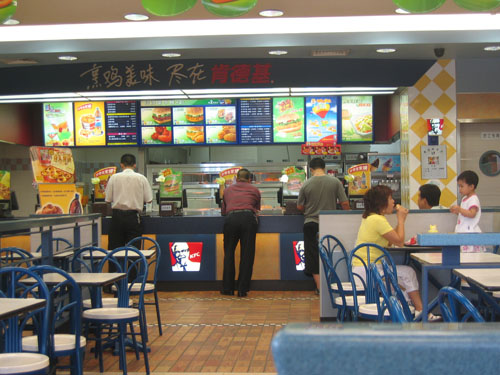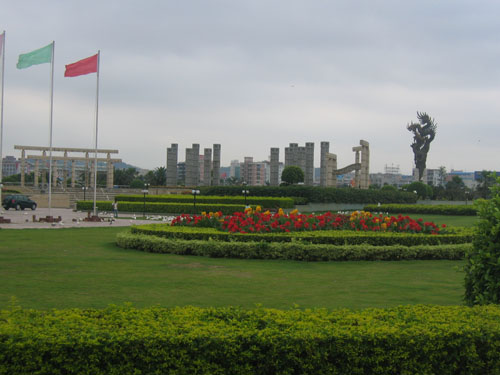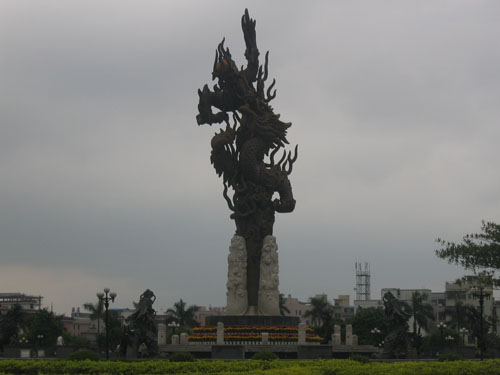 Anyways, Lung Gong was cool, although it is no Shen Zhen as it is not as modernized as Shen Zhen. The restaurant was like four to five stars at least and the area was just nice looking. I have taken some pictures of the symbol of Lung Gong, and as you should expect, it is a humongous statue of a dragon surrounded by a bunch of other smaller dragons below. When we left to go back to Da Peng, my uncle asked if I have ever been to a massage parlor. I was surprised, but said, 'Let's go.' Wow, was it an awkward experience. NO! It is not what television and movies depict it to be, although I am sure there are some that are. It was relaxing. I played basketball last night and she could feel that my muscles were tired. When the full body massage was done I was so loose. The massage cost $25 Yuan, no wonder why people go so often. That is like $2 - $3 bucks American.All that massaging was gone to waste as later at night I went to play basketball again lol. Man I hate how their game is. When they play full court, they run a constant fast break with a basketball that can break your nose, because it is so pumped up with air. While I was not a scorer in the game, I dished for my team, and even when we scored every time when I was controlling the game, they do not pass the ball to me enough. Wow. I was pissed about the game, because I know I can school every single one of them, but was not given the chance to. I left and went home, took a shower and watched this Hong Kong drama that I have been hooked on ever since I came back.
May 27th, 2005
My memory is not serving me well for this day :(, but I believe it was pouring like crazy. So nothing special went on, probably.
May 28th, 2005
Well today after yum cha in the morning my grandfather told my uncle to drive us around, because he saw that I had nothing to do in the house other than read… but that was not the case anymore as I have finished The Da Vinci Code hehe. Well I really had no problem with reading, because it gave me a free mind. But we went to eat crabs, taking the same dangerous road as I described last time. A funny incident happened. Because of rain, the guards were hesitant to allow people through, they stopped a few people and advised them, but when they saw my uncle's illegal car, they did not even care lol.
The water here is so nice. There was a natural spring water from the mountains (not Poland Spring crap). It was a great place to sit and dine right next to the ocean. I really loved that feeling.
May 29th, 2005
As my days in China are coming to an end, my grandfather, aunt and uncle drove me to West Chung and East Chung. I am not even going to attempt to translate the names. West Chung had several beaches and all of them were clean, blue. I swear, take a look at a picture here, if you had not known that I was in China, you would probably have thought that I was in the Bahamas. Heck, all I needed to sell the picture was a bottle of Corona haha! I love the breeze, the sun, the sound of the waves, does that make me weird? :P.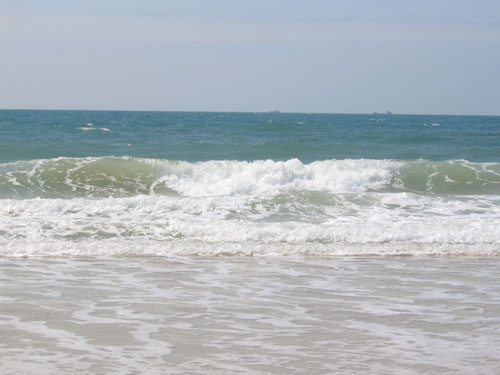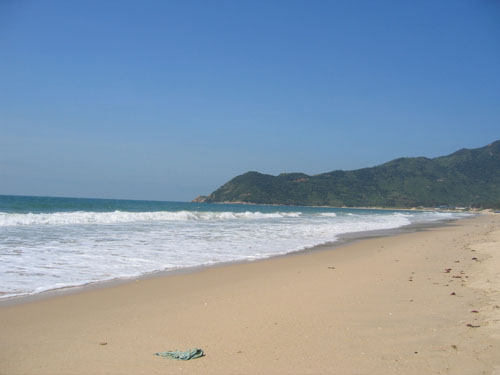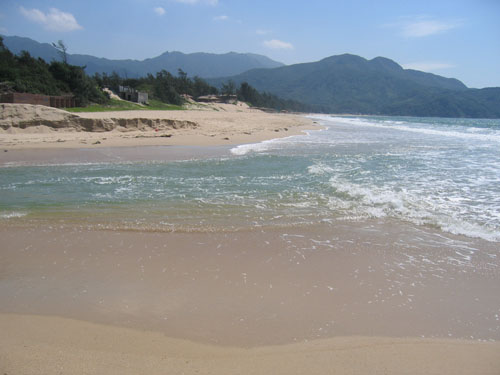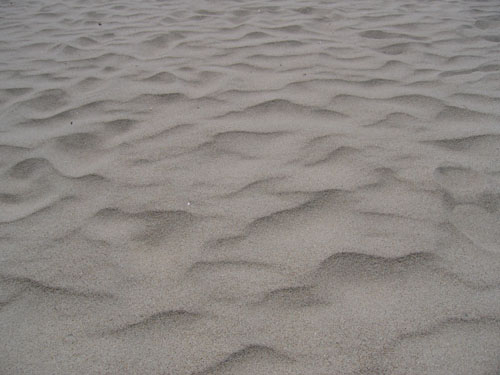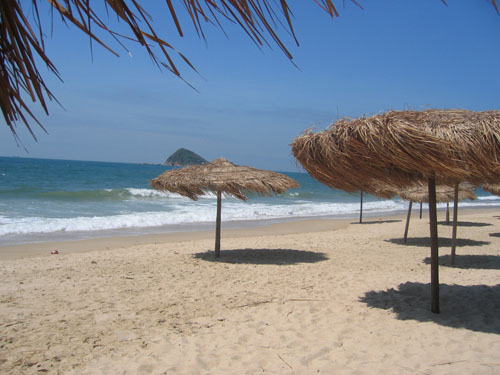 May 30th, 2005Today was a great sight seeing day, but I was stupid enough to not bring my camera! We went to the peak of a mountain and guess what was there; a golf course. Damn rich people. When Chinese people are rich, they are truly rich. Buying stuff with stacks of cash, driving the latest Benz convertible or BMW Z4. Something always came to my mind when I saw rich people living up in the mountains. You see, back in the day, poor people had to live in the mountains, because it was just how it was; cheap. The people with money lived in the city and stuff. Now the whole thing is reversed, hence, some people just do not get it. I wished I had pictures, it was a great scene one after another :(.
May 31st, 2005
Finally, today is the day I go back to Hong Kong with my grandfather. After dim sum, we headed for the bus. Once we got back to Hong Kong, we went back to Sheung Shui to visit my grandmother. Then we shopped at Landmark Mall; this time buying stuff, because I leave on June 2nd. Once we put our luggage back in Tai Po, I called my uncle since Tuesday was his off day. We told him to go to afternoon tea, surprisingly, my aunt got out of work early and the four of us went to afternoon tea, then shopped even more. We walked a lot and I bummed off a pair of all black Air Max 95's from my grandfather. I also found the best PSP deal, $1630. I bought it for a friend and when I was testing the game when we got home, I told my grandfather, I think I am fixing myself one too lol. We laughed and the night ended.
June 1st, 2005
Well the time has come near and my grandfather and I went to visit my grandmother one more time. After that we took a break in KFC and headed back to Tai Po. We waited for my aunt to come back, then we headed back to the PSP store hehe. We were there to pick up the PSP case, but then my grandfather asked if I wanted it. I said, 'Yes,' and I got the value pack edition for $1820, very cheap considering all the throw ins the owner gave. After that we bought groceries and headed home. Later at night, I told my aunt that I was going to the supermarket downstairs to buy snacks for the flight. So she calls my second aunt and we met her there. I just swiped everything not available here in the States and my second aunt offered to pay as a present. Oh wells, when we got back I packed the stuff nicely and waited for the next day to come.
June 2nd, 2005
The day has finally arrived. I woke up at 4:00AM and went back to sleep for an hour later. Everyone woke up, my uncle was heading for work, my aunt, grandfather and my other uncle was going to drive me there and see me off. The drive was shorter than the E41 bus ride. I wished I had taken a picture or two of the Tsing Ma bridge, it is the longest suspended bridge in the world. When we got to the airport, we went to McDonald's and had a meal there. After the meal I departed for customs check, said my goodbyes and my travel back in time begins.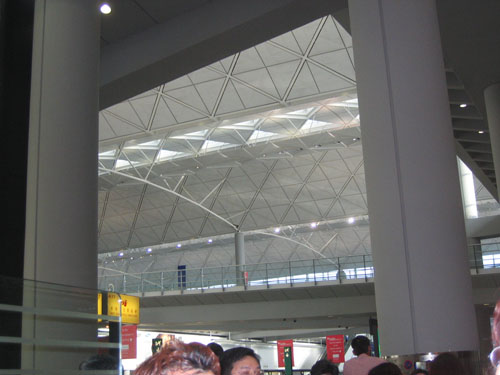 Main Idea of this Rant?! - A diary of my vacation to Hong Kong / China.
Closing Statement(s) -
All in all I loved this trip, there were so many cool things that I have seen. You know what? I will add in some pictures of the other places I went a few years ago. All pictures of great tourist areas.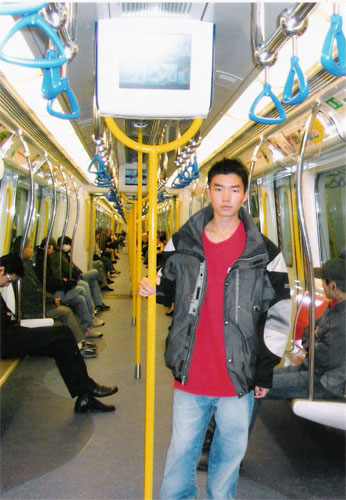 Inside the West Rail.   Newly built at the time.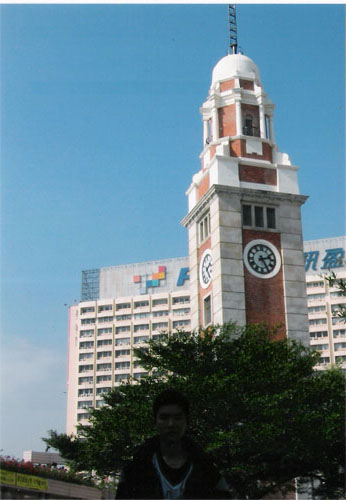 The famous clock tower of Hong Kong.   A lot of proposals are done under this tower :).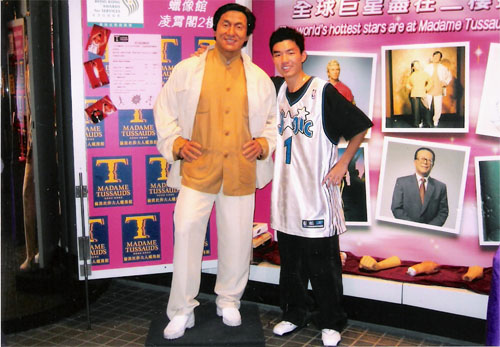 Do I really need to introduce you to my friend here?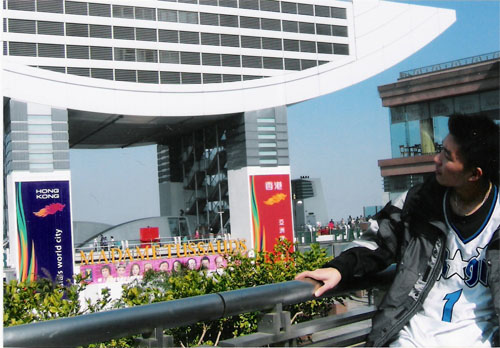 The Peak, it is the symbol of Hong Kong.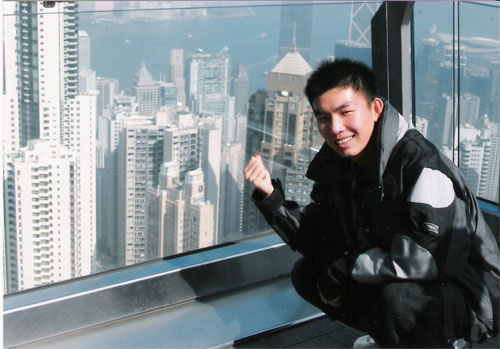 I am smiling here, not because I am thrilled… it is more of a smile in the face of fear.   I cannot stand heights…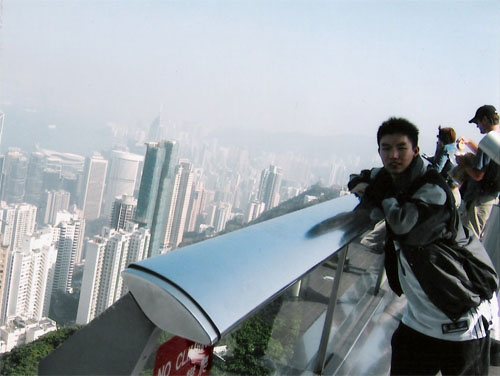 If you are afraid of heights, then this is not the place for you to go… just riding on the tram to get up to the Peak will scare the crap out of you with its' crazy incline.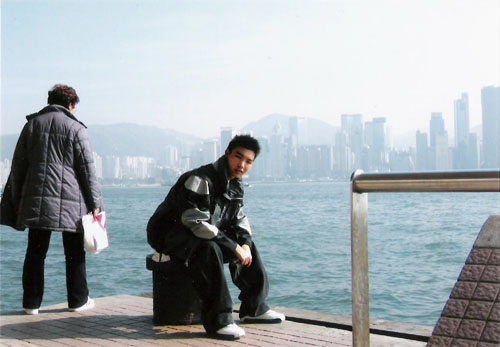 This is probably one of my best photos ever taken, but my aunt is in the picture!!! :(
While my trip was short, it was great. There were some stuff that was not all that cool as well. Like some dude cursing at me after I moved out of the way when he said excuse me. I moved myself away without looking at him and he just speak about my mother. WTF? The other incidents were all on the flight back. The person sitting next to me, slept like he was delivering a baby and the dude behind me kept coughing. The lady in front of my had her seat back so much that I wanted to just punch the damn thing so she can realize it. And what is with the babies? The baby a few rows back of me, would not stop crying!!! Argh! The JFK baggage claim sucks. How are you going to put five flight's luggage at one baggage claim? You should see the crowdedness of the belt and the time it took for me to claim my bag. Sigh… with these negatives, I am still contemplating a trip next year again, as the newest and most modern Disneyland will be opened there by that time. (September 12th, 2005 specifically I believe).